Author Reading on Sunday, April 19 at 1:00 with Karl Koerber and Ellen Burt
Karl Koerber will read from his book, Through the Whirlpool.  Karl lives in Pass Creek.
His biographical account of his parents' journey through the Nazi years, the Second World War and finally their migration to Canada encapsulates the stories of many ordinary Germans whose lives were thrown into turmoil during the Nazi cataclysm.  The momentous historical events of the times are mirrored in Hans and Sigrid's personal trials as they watch the Nazis' promise of prosperity and glory disintegrate into a nightmare of war and destruction.  Drawing on many sources including personal memoirs, family recollections and the many historical accounts documenting the Nazi era, the author interweaves the dramatic events of the times, the ordinary lives of his family and his reflections on the social conditions that facilitated the rise of Hitler and his Nazis.
Ellen Burt reads from What Forever Feels Like: A Memoir of Johnsons Landing

The old magic of "once upon a time" can ambush us, especially when we see the loves and challenges of our own lives mirrored in a memoir like Ellen Burt's What Forever Feels Like. Is this déjà vu? Why are her stories so familiar? A good memoir makes us realise that a story has always lived deep inside us, waiting and longing to be told. We are never too old for the telling; never too old to discover ourselves tumbling down the rabbit hole, feeling that barriers of time and place have dissolved; never too old to feel the ache of falling in love when we thought our youth was done with. A great memoir might hurt in a good way, and it might just allow us to let go of old wounds, if we let it.
In Ellen Burt's poignant stories about Johnsons Landing, "forever" creeps into our hearts as subtly as the mists off silvery Kootenay Lake. She creates a forever as unforgettable as the people and culture of the West Kootenay communities in the 1960s and 70s. They were her people, and Johnsons Landing was her revolution. To read about that particular forever is an experience as tender and juicy as the cabbages that a young married Ellen once grew and buried in her garden, roots up and heads down, ripening beneath the blue drifts of snow until spring.
Author Reading on March 1, 2020, at 1:00.
Lee Reid  will share her book Growing Home: A Legacy of Kootenay Elders, an inter generational look at life according to seniors and youth.
Elizabeth Cunningham will read from her poetry collection,

A Fragile Grace

.  She writes with the rare gift of etching gritty and everyday truth in light.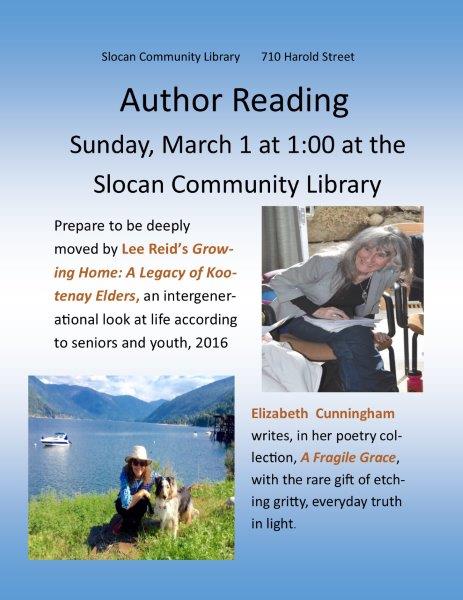 There will be an
Author Reading

with

Terry Fallis on Saturday, January 18

at the Slocan Legion Hall at 1:00. Come out to this free event to hear from this well known and loved award-winning author of seven national best sellers, including his most recent, Albatross (2019), all published by McClelland & Stewart. Slocan Community Library patrons are very familiar with his popular work.
Terry Fallis writes just about the tidiest romantic comedic novels you can find on earth, let alone in Canada."
The Globe and Mail