Author Reading on March 1, 2020, at 1:00.
Lee Reid  will share her book Growing Home: A Legacy of Kootenay Elders, an inter generational look at life according to seniors and youth.
Elizabeth Cunningham will read from her poetry collection,

A Fragile Grace

.  She writes with the rare gift of etching gritty and everyday truth in light.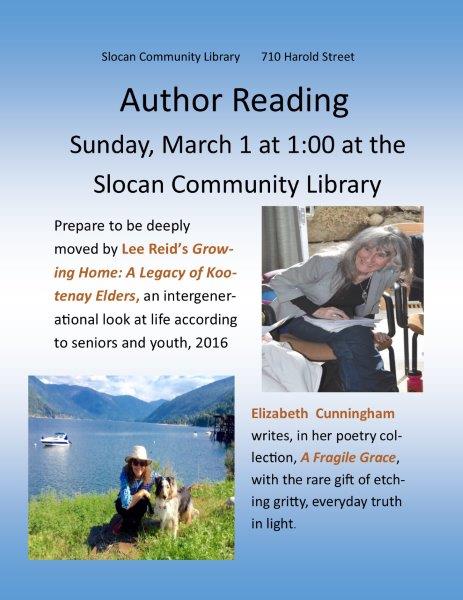 There will be an
Author Reading

with

Terry Fallis on Saturday, January 18

at the Slocan Legion Hall at 1:00. Come out to this free event to hear from this well known and loved award-winning author of seven national best sellers, including his most recent, Albatross (2019), all published by McClelland & Stewart. Slocan Community Library patrons are very familiar with his popular work.
Terry Fallis writes just about the tidiest romantic comedic novels you can find on earth, let alone in Canada."
The Globe and Mail