Author Readings 2019
Lila Strand September 27, 2019
Lila Strand read her children's book, The Star Children, to a group of young students from WE Graham Community School.  From the moment she began reading , everyone in the library were captivated by her expressive presentation of the story.
The Star Children is a beautiful story that creates a porthole into a poetic nature world.  The book takes you into something that is, hopefully, every growing child's experience – a deep connection to nature that builds our core of being.
Becky Livingston of Nelson, author of The Suitcase and The Jar, and Roz Nay who wrote the mystery novel, Our Little Secret, presented their books on Sunday, April 14 at 1:00 pm.
Becky relates an intensely moving story of a mother's courage and resilence as she takes her 23 year old daughter's ashes on a twenty-six month trip to many European countries and from coast to coast in North America.  In doing so, she fulfilled her daughter's only wish – to keep on exploring the world. Becky was able to find the strength to reconfigure her life through this transformative journey.
Roz has also travelled the world, working and living in many areas.  Our Little Secret is her first novel and it won the Hugo Prix for Best Foreign Thriller (France) and was nominated for the Arthur Ellis Award for First Crime Novel.  Her book is a compulsive story about a missing woman, a tangled love triangle, and the secrets we keep and the secrets we share.  Twisty and suspenseful, this mystery novel is an intense cat-and-mouse game and a riveting thriller.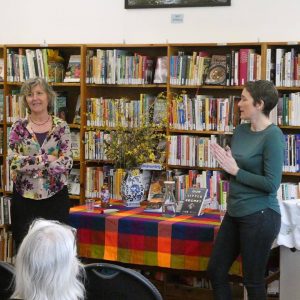 Marilyn James and Taress Alexis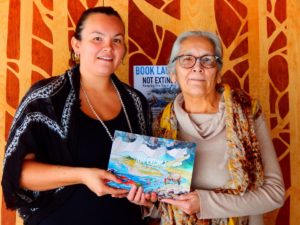 Sunday, March 3 at 1:00 pm.  
Marilyn James and Taress Alexis, Sinixt storytellers and knowledge keepers, will present their book, Not Extinct: Keeping the Sinixt Way. They will address the reality of their living culture in the face of bureaucratic genocide in their beautifully illustrated book.
This is a free event.
---